CALLED TO THE TORAH? CONGRATS!
Now it's time to celebrate. DJ Maasha collaborates with the bar mitzvah boy or bat mitzvah girl to design a

party

with

personality

.

Scroll on to learn more.
DJ Maasha did a great job for our Bat Mitzvah. She played great music and really kept the girls entertained. She was easy to work with and well organized.

Masha was simply the best bat mitzvah DJ I've ever seen -- and as this is my third child, I've been to many of these parties and seen many DJs. She organized the evening in a way that the kids were the stars and ran the games. We had also booked a photo booth and a henna lady, but honestly, all we needed was Masha. We had 33 girls and four boys (including the bat mitzvah girl's brothers) and all they wanted to do was hang with Masha. We ended at 10 p.m., after four hours, but the kids could have gone at least an hour more. Amazing party, thanks to an amazing DJ!

Hi Maasha, I have got to say this was everything I dreamed of plus plus plus. On a scale of 1-10 you were a 14 and a half. You entertained those kids for 4 hours, never stopped for a minute, those kids loved every bit of it and I thank you for everything you did. It was a perfect party and you made it.

Maasha showed up early and was prepared. Extremely easy and pleasant to work with. Though I had an plan for the evening there were a few changes during the event, and she rolled with theme without missing a beat. Maasha is a pro.

Maasha you know how nervous I was for this event. I was worried that everyone was going to have an amazing time, that everyone was going to have fun, and you just put me at ease. You're an event whisperer. I cannot applaud you enough for your ability to relax me, allow me to get into my zone, calm, trusting, and knowing you would carry this event and you did. Bravo.

Thank you DJ Maasha my party was so much fun, we played so many fun games. Everybody was having fun and like dancing and all together on the dance floor. I think everybody just had a really great time.
A Personal Touch
DJ Maasha makes planning a bar or bat mitzvah a collaborative effort. Her experiences as Director of Education at a Jewish sleepaway camp for 12- and 13-year-olds and in her own Jewish community inspired her to offer highly customized bar and bat mitzvah celebrations that are personal, engaging and fun for all.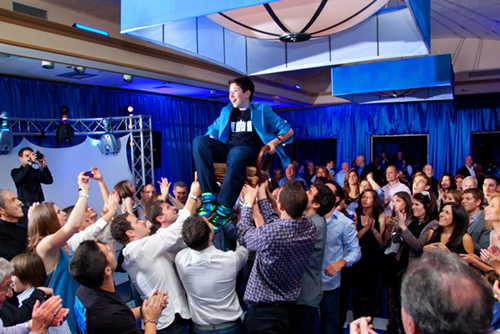 With DJ Maasha, Mitzvahs Mean More
Whether it's dancing the night away to the latest hits, showing off with friends in America's Got Talent-style contests, playing trivia, or all of the above, DJ Maasha and her team will work hard to bring your child's vision of the perfect bar mitzvah celebration to life. She'll make an effort to get to know your child personally and learn guests' preferences, so you'll never have to wonder if everyone's having a blast!
Responsibility and personal development are core tenants of the bar mitzvah ritual. With DJ Maasha's guidance, your child will have the opportunity to create a personalized playlist, plan games and activities, and even host his or her own celebration. By encouraging them to take an active role in organizing their bar or bat mitzvah, DJ Maasha encourages young clients to embrace their new Jewish adulthood.
Client satisfaction is DJ Maasha's top priority. Thanks to her meticulous attention to detail, you can feel completely secure that your child and his or her guests are having a great time. Plus, you never have to worry about mishaps: All lights, turntables, and stereo equipment are 100% insured.
CELEBRATE YOUR WAY
DJ Maasha helps you bring your dream party to life.
BEHIND THE MUSIC
Wanna know more about DJ Maasha? Get the facts here.
When you call to book DJ Maasha, you'll talk through all the major details of your child's bar or bat mitzvah, from the theme to the guest list. Once you've agreed on a rate, she'll send you a contract stating her promise to be at the right place, at the right time. You'll also schedule a day for her to meet your daughter or son in person or over Facetime.
At your child's in-person or Facetime meeting with DJ Maasha, she'll ask him or her questions about the friends invited, the type of music they'll enjoy, and whether he or she wants to run the games and activities or join in the fun (or both!). The bar mitzvah boy or bat mitzvah girl will also have the opportunity to plan a speech or performance. And of course, your child will collaborate with DJ Maasha to create a custom mitzvah playlist.
Your child will be the star of the the show at his or her mitzvah celebration. He or she can host alongside DJ Maasha, hang out with guests, or do a little of both. At the end of the night, you and your family will be left with share-worthy memories you'll cherish for a lifetime!
Packages and Add-Ons
DJ Maasha offers two basic entertainment packages that can be tailored to fit your vision. For bar and bat mitzvahs, she recommends the MC package for an engaging, one-of-a-kind celebration that both teens and parents will love.
Certified professional DJ

State-of-the-art turntables outfitted with classic vinyl player and digital music software

Non-stop, expertly-blended mixes tailored to your event

Customized playlist from unlimited selection of licensed songs, with clean and radio-friendly versions available

Event liability insurance
Full DJ package

Certified professional Master of Ceremony

Announcements, interludes, and crowd control

Icebreakers and interactive group activities

Contests, trivia, and game shows

Competitions and dance-offs

Party-wide dances
Ceremony set-up, including microphones and audio equipment

Uplighting

Extra speakers

Dancers

Contest prizes

Glow-in-the-dark dance floor goodies

And More!
Have a question or ready to book?
Send DJ Maasha a message using the form below or shoot her an email at booking@djmaasha.com - she'll get back to you within 24 hours.