CONTAGIOUS ENERGY, FROM BROOKLYN TO L.A.

Masha "DJ Maasha" Evans is a disc jockey and Master of Ceremonies with a reputation for excellence as an event professional. Her accomplishments as a turntablist and as an entrepreneur have been recognized by the Los Angeles Business Journal, Rising Tide Society and Voyage L.A. She is trusted by a growing roster of high-profile clients including SoulCycle, Equinox, Netflix, Under Armour and Uber.

Masha holds herself and her team to the highest standards of quality and professionalism. Please inquire about her availability for corporate, retail and branding events using the form at the bottom of the page.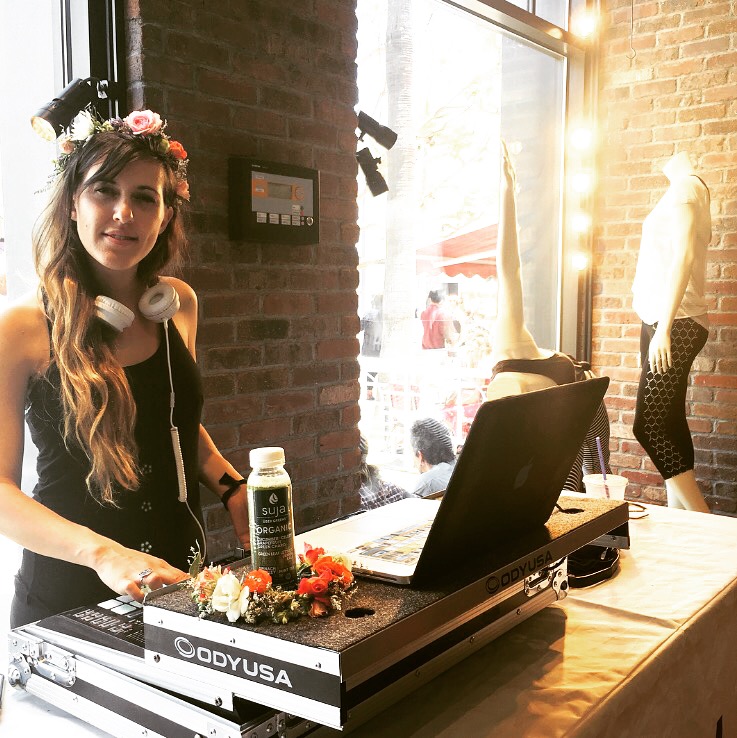 DJ Maasha performs at events and venues throughout Los Angeles, including sets at Hollywood's Create Nightclub and Zanzibar in Santa Monica. Her versatility and professionalism wins the trust of brides and moms alike, while her unstoppable energy has made her the DJ of choice for clients like Equinox, Yogurtland, and Accenture.
Maasha is a classically-trained musician who received a professional DJ and MC certification from LA's Scratch Academy. As a child psychology major at Columbia University, she studied the impact of social interaction and music on the developing mind. She's also multilingual!
DJ Maasha believes music should inspire peace and positivity in listeners, and aspires to leave her audience feeling enlightened and uplifted after every performance. She is frequently requested to spin at spiritual events such as Santa Monica's Luminous Movement, Ecstatic Dance LA, Dance of Liberation, and festivals such as Burning Man and Lightning in a Bottle.
FEEL THE SOUND
DJ Maasha plays at venues and festivals in LA and beyond.
EFFORTLESS STYLE
DJ Maasha sets the right tone at every private event, every time.
Let's Chat!
Ready to book or have a question for DJ Maasha? Shoot her a message using the form below and she'll get back to you within 24 hours!